Horticulture is one of Australia's key industries. It contributes $11.7bn a year to the economy and employs over 56,000 people across a range of sectors. These include everything from working in private gardens, carrying out garden maintenance, for example, through to managing large-scale crop farms.
It's an ideal career choice for people who enjoy spending time outdoor in green spaces, who are interested in plants and how to grow them or want to use their scientific knowledge to improve the quality of the food we eat.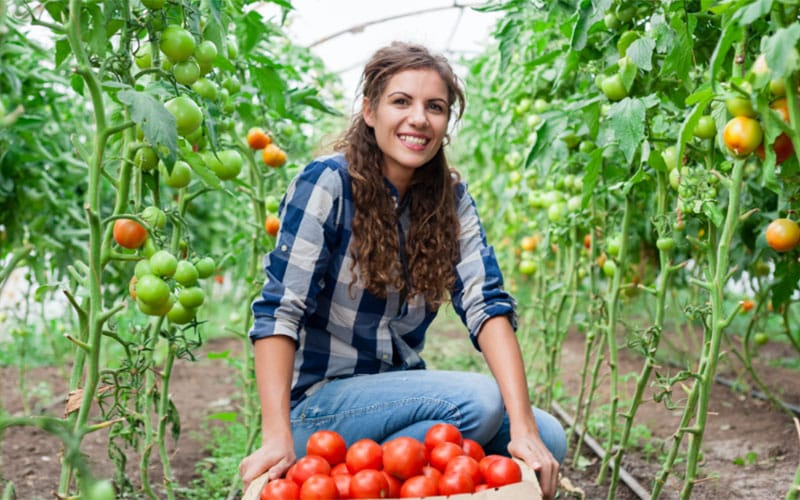 What does a horticulturist do?
Perhaps one of the things that makes a career in horticulture so interesting is the variety.  There are so many different types of jobs within the sector, and so many different tasks you can carry out.
For example, a Horticulturist may need to work out which plants grow best where to improve a farmer's yield. They may be transplanting and transporting these plants from one site to another. Furthermore, they might be working out how best to rid them of pests and diseases.
Alternatively, they might be designing or maintaining a public or private garden.
Whatever the role, a Horticulturist needs a good mix of skills, both practical and academic. What's more, they need to be happy to get their hands dirty. This is because there will likely be a physical element to their job too. Just how dirty their hands will get, and the skills and experience they need will depend on the sector they work in, however, and the job they want to do.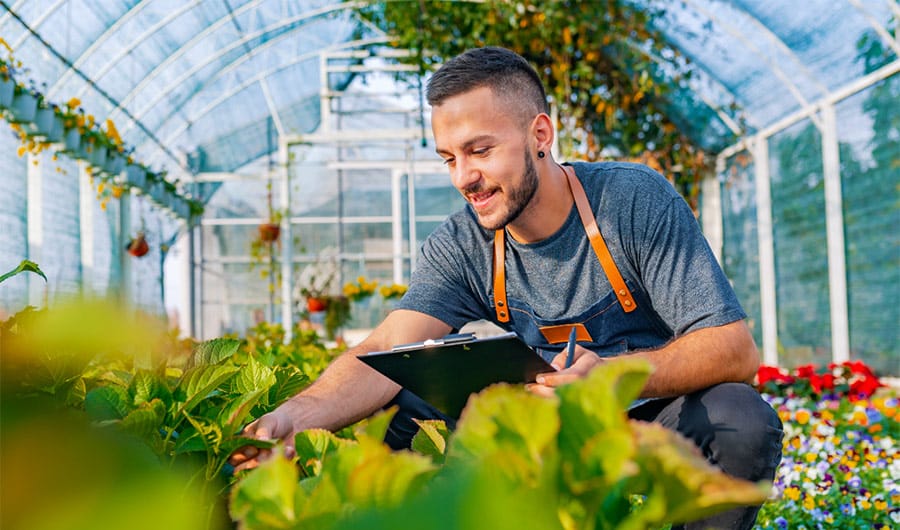 Sectors and opportunities within horticulture
Horticulture covers a range of different sectors and offers people a range of different career paths. We've looked at the most popular of these below and the training you'll need to kick start your horticultural career.
Arboriculture
Arboriculture involves the managing of trees in places people live (as opposed to forests and woodland, for example). Work is done by an Arborist, who is also often known as a tree doctor or tree surgeon.
Arborists will plant and tend to trees and shrubs. They will maintain them and deal with any issues such as structure (branches that need removing, for example), pests and disease.
According to Arboriculture Australia, Arboriculture is a growing industry with national shortages, making it a good career choice for people who want to work outdoors.
Floriculture
A career in Floriculture offers opportunities to work outdoors, growing flowers commercially for example, and indoors, e.g. managing a florist shop. For those interested in growing flowers, an interest in science is a plus. They will need to know the best plants for the region they are growing in, and the best time to plant and harvest.
The retail side is a good option for those who are more creative. They will need to set up displays in-store and produce flower arrangements. While the industry has struggled in the last few years due to economic uncertainty, the sector is seeing positives in the current climate to improve their fortunes.
Landscaping
Landscapers also need to be creative. It is their job to turn their client's dreams into reality, whether this is a public green space or a private one. This starts with understanding just what their client wants. Then they have to create a design that works within a set budget.
A part of this design is understanding the plants that work and what will create a 'wow' factor. Finally, they need to make it happen by either doing the work themselves or managing a team of gardeners. All this means that a good landscaper needs great technical, financial and people skills.
Nursery
Without nursery workers, no Landscaper, Arborist or Florist would have plants to work with. That's because the job of people who work in a nursery is to grow plants from seeds and cuttings for commercial sale. These sales can be to plant stores, horticultural specialists, or the general public looking to improve the look of their gardens at home.
Jobs in nurseries are ideal for those who like to nurture and share their knowledge of plants.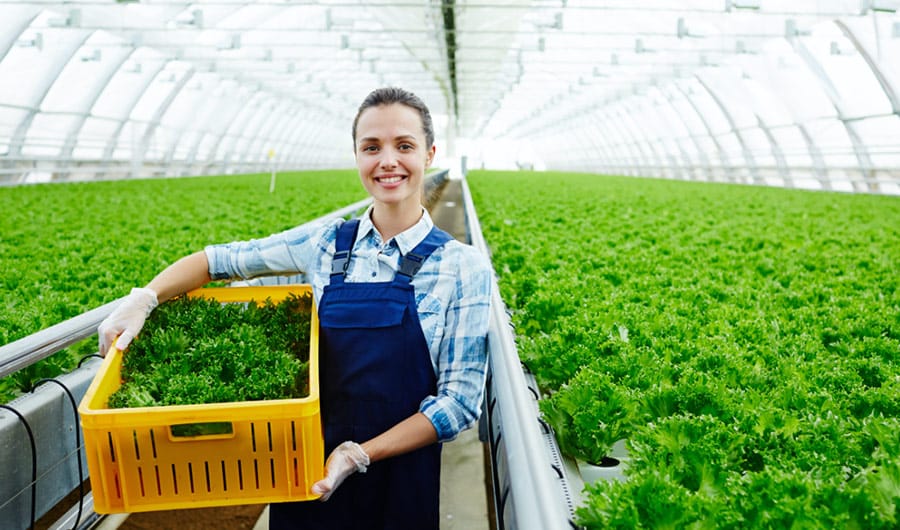 Park and gardens
Australia has beautiful parks and gardens. These include 19th-century colonial gardens, botanic gardens, and modern parks and gardens as well as over 600 private gardens open to the public each year—all of these need to be managed and maintained.
Working in parks and garden management means taking on a whole host of roles and responsibilities. One day, for example, you may be investigating the history and design of the park you manage. The next you could be installing a sprinkler system or designing a new flower bed.
As a result, you'll need to be able to multi-task and manage your time well. Depending on the size of the park or garden, you will also need people management skills as you might be in charge of a team of gardeners.
Turf
While people often think about plants and trees when they think of gardens, the grass is just as – if not more – important. It is also more complex and complicated than you might first think.
There are, for example, lots of different types of grass. Each of these works best in different types of environments. Some are much hardier than others, for example, while others are more suitable to certain industries such as sport.
When working with turf, you will need to know which grass works best in which setting and how to maintain it.
Amenity horticulture
Amenity Horticulture is one of Australia's fasting growing Horticulture sectors with a $6bn a year turnover. It incorporates many of the other areas we've already looked at, including Floriculture, Nurseries, Landscaping and Parks and Gardens as well as specialist sectors such as Plant Pathology.
Primarily, however, it involves the growing, harvesting and marketing of fruit, vegetables and nuts. Those with an interest in Amenity Horticulture will, therefore, need to learn about how to grow fruit trees, for example, as well as manage orchards.
Production horticulture
While Amenity Horticulture looks at the growing of fruit, nuts and vegetables, production horticulturists need to know about how to produce and sell on this food. They need, therefore, a good understanding of health and safety and food hygiene as well as pest and disease control.
They also need practical skills such as planting, pruning, harvesting and the use of equipment and machinery. Finally, they need to know how to market and sell these foods and get them to where they need to go.
Grow into your own business
Because horticulture is so varied, there are lots of potential job opportunities out there for people. There are also lots of opportunities to work for yourself. You could, for example, start your own garden maintenance or landscaping business.
Alternatively, you might want to move into urban farming. This is a fast-growing sector of Australian Horticulture that uses local land to produce food for local communities, minimising transport and reducing environmental impact. If this is of interest, remember you will need to understand crop production to be truly successful.
Tips for those just starting out
How you start your career in Horticulture will depend on the sector you are interested in. Each requires different skills and attributes, different training and – in some cases – different qualifications.
If you have an interest in plants and a love of the outdoors, a good place to begin will be with a general course in Horticulture that helps you decide just where you want your focus to be.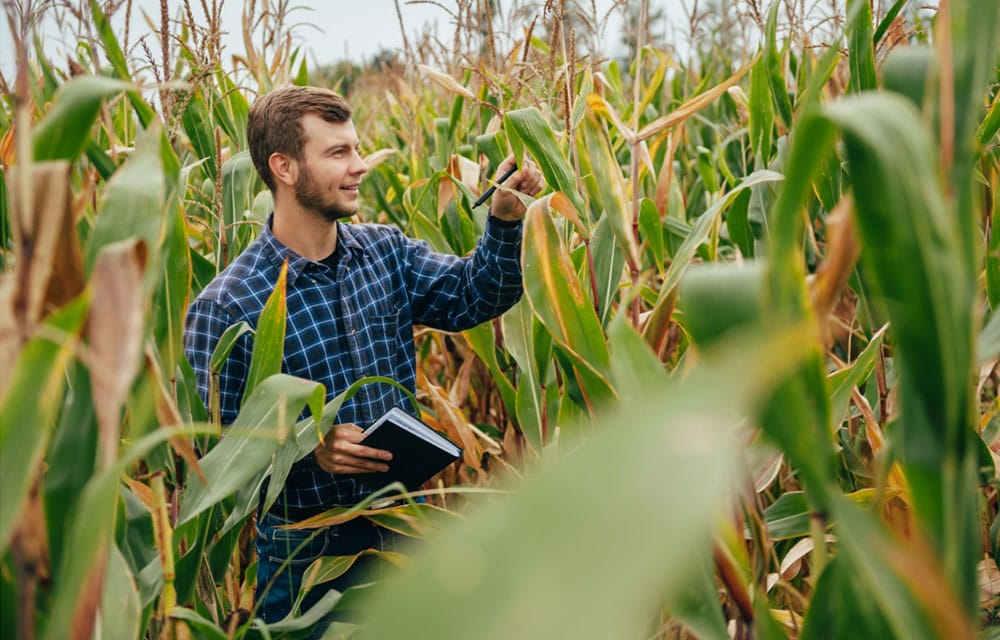 Initial training
Careers Collectiv, for example, offer a Foundation in Horticulture Certificate. The course will help you develop your knowledge and understanding of Horticulture, including how to grow and cultivate plants. It is the ideal introduction to the subject, whether you want to work in a nursery, park and garden management, or start your own gardening business.
Once you have the basics down, you will need to develop your knowledge further with a Specialised Horticulture Certificate. Building on the foundation course, this will provide you with the information you need to set up your own urban farm or other horticultural business as well as give you a grounding in the wider agricultural sector.
In addition, those interested in farming might want to take an Advanced Certificate in Crop Production. This course looks at different crop systems, how to establish them, and how to nurture crops using traditional and organic methods.
Finding a job
If you want to work for yourself, Careers Collectiv Online short courses will help you gain the skills needed to set up your own business. However, if you want to find a job working for someone else, you will receive a certificate of attainment that evidences your abilities to potential to employers.
You can include this, along with the skills you learnt through the course(s) in any applications you make or list it on your CV so that you're ready for a successful career in horticulture!